the peri
25 May 2012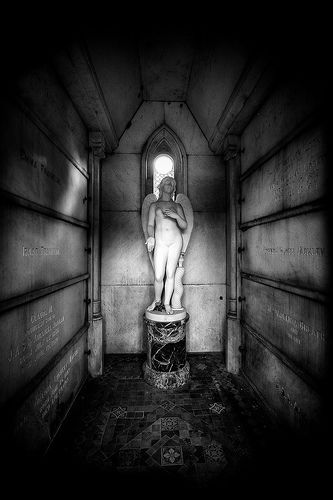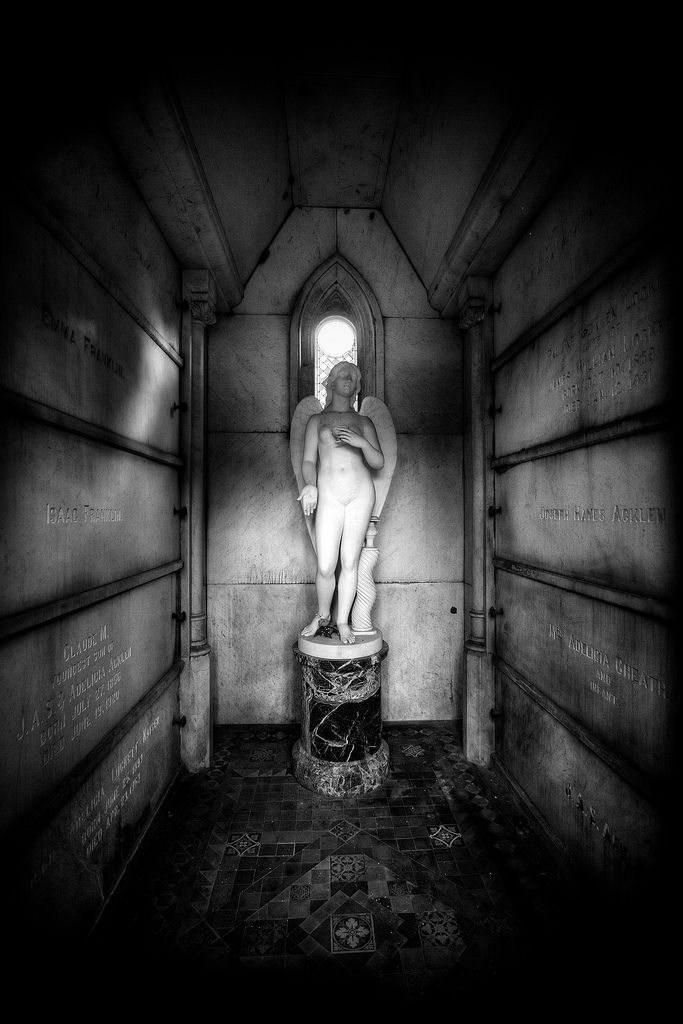 The Peri, Acklen Mausoleum, Mt. Olivet Cemetery, Nashville, TN.
Following the death of her second husband, Adelecia Acklen toured Europe, where she purchased many works of art for the Belmont mansion. Her favorite among them was this statue by Joseph Mozier, The Peri. From "Angels in the Home", by Lauren Lessing:
Acklen's largest and most elaborate ideal sculpture was a nude, standing, winged figure by Joseph Mozier, The Peri, which she displayed in Belmont's grand salon. Near the center of the room, standing eight feet high on its pedestal, the sculpture presided over nearly all of Acklen's most important social functions. The subject is taken from the Irish poet Thomas Moore's 1817 poem "Lalla Rookh." A story within the poem tells of a peri, or fallen angel, who longs to return to heaven. After several failed attempts to reenter paradise, she is at last admitted when she brings the correct gift to the guardian of the celestial gates—the tears of a repentant sinner. Mozier's sculpture depicts the peri standing in a graceful contrapposto pose, her slightly upturned face transfixed by an expression of joyful reverence. With her open right hand, she presents the sinner's tears, while her left hand holds a goblet—perhaps a reference to one of her earlier gifts, a cup containing the blood of a patriotic hero who died defending his native land from invaders. Her feathered wings, which extend down past her knees, are folded behind her like a mandorla. Although The Peri—Mozier's only nude female figure—is both voluptuous and completely unclothed, the sculptor followed nineteenth-century academic conventions by omitting genitalia and body hair. The smoothness and whiteness of the marble lends The Peri a chaste, spiritual air that, as Hiram Powers famously argued, made nudity permissible in ideal sculpture. The truncated spiral column supporting the figure is well suited to Moore's orientalizing tale of spiritual redemption. It is both a common element of Islamic architecture and a reference to the columns supporting the dome of St. Peter's basilica in the Vatican—columns that purportedly originated in the Temple of Solomon. Inscribed on the pedestal are the words from Moore's poem, "Joy! Joy forever. My task is done. The gate is crossed and heaven is won."
Pictured above is the statue in its current/final resting place: interred alongside Adelicia herself in the Acklen family mausoleum.